University of Basel
Department of Chemistry
St. Johanns-Ring 19
4056 Basel


The registration desk and the welcome coffee as well as the exhibitor booths are at St. Johanns-Ring 19 right after the entrance.
The lectures take place in the big lecture hall of organic chemistry.
The poster sessions take place in the 2nd and 3rd floor of the staircase and in the library at the 3nd floor.


Traveling by train
At the Basel SBB station take bus No. 30 to the stop Kinderspital. Cross the Street. Walk up Schanzenstrasse.
Alternatively, take the Tram line No. 11 direction St. Louis Grenze to the station St. Johanns-Tor.
Swiss Railway timetable on www.sbb.ch
Traveling by car
No parking possibilities are available on the campus areal. Paid parking nearby in the public parking City.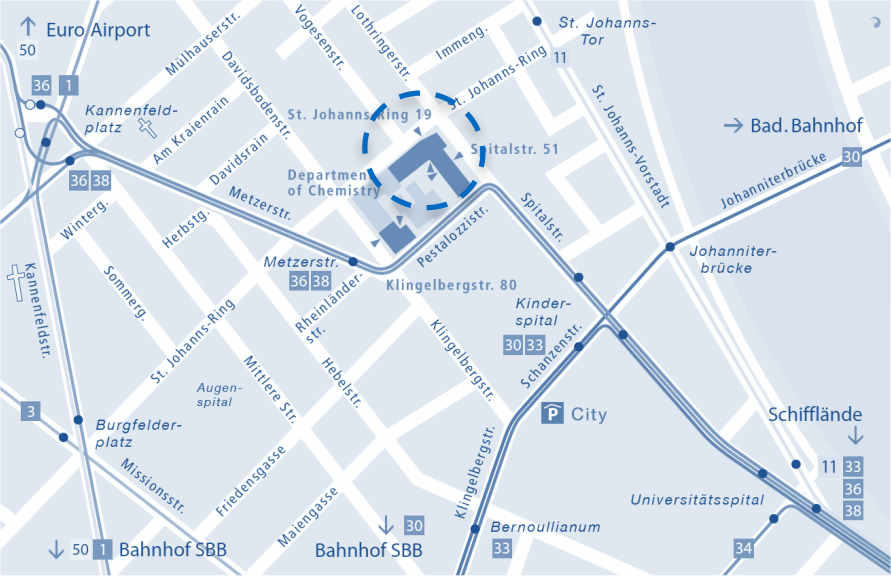 The Department of Chemistry is part of the Science Faculty, one of 7 Faculties of the University of Basel. The Department was founded in 1989 by the merger of three institutes, the Institutes of Inorganic, Organic and Physical Chemistry. These research areas are still located in different buildings and, hence, have different addresses. Analytical Chemistry has been added since as an additional research area. All important decisions for research and education are, however, taken within the Department. Its "parliament", the Departementskonferenz, is the legislative body and makes the "laws". The Geschäftsleitender Ausschuss, the Forschungsausschuss and the Unterrichtsausschuss are its executives.
If you are interested to learn more about the history of the University of Basel and our Department click here.